Preface
On May 26, 2023, a company attracted market attention due to suspected unconventional transactions, potentially violating several provisions of the Securities and Exchange Act. That company is AboCom (2444.TW), a well-established Taiwanese networking equipment manufacturer with business interests spanning six major areas: networking manufacturing, advanced precision manufacturing, IoT applications, advanced laser chips and wafer materials, and memory business.
Among these six areas, AboCom's primary value lies in the networking industry, where it initially thrived and even became the world's largest PCMCIA manufacturer. However, with ever-changing technologies, the PCMCIA market gradually declined, leaving AboCom struggling to find its identity and profitability. Since going public in 2000, the company only managed to remain profitable for a mere 10 years.
Throughout its transformation journey, AboCom experienced multiple changes in leadership, as various parties vied for control in pursuit of maximizing the company's and shareholders' interests. This resulted in prolonged instability in AboCom's management. This article focuses on AboCom's efforts to maintain its core product competitiveness and undergo a proactive transformation while enduring the turbulent changes in leadership and operational conditions. Additionally, the article introduces how TEJ assesses group attribution amidst the turmoil in leadership, enabling readers to gain a comprehensive understanding of AboCom's history and to analyze the company's profitability and operational status from a group perspective.
D-Link Corporation (G2332)
The Birth of AboCom: ZhongWang Tech from mentor's support
AboCom (known as ZhongWang at that time) was established on June 12, 1995, by three individuals: Chen Bing-Yi, Ouyang Zi-Kun, and Hsu Chih-Jen. The company's primary focus at the time was the manufacturing and sales of network cards. Bing-Yi, Chen served as the Chairman, primarily responsible for research and development; Zi-Kun, Ouyang was the General Manager, overseeing management and marketing; and Chih-Jen, Hsu held the position of Deputy General Manager in charge of research and development.
Both Bing-Yi, Chen and Zi-Kun, Ouyang had previously worked at D-Link Corporation (2332.TW). Chen joined D-Link in 1987 and served as the Deputy General Manager, while Ouyang was Factory Manager. Luckily, Ouyang's mentor at Tamkang University, Her-Hsuan, Kao, was also associated with D-Link Corporation. After graduating, Ouyang entered D-Link Technology in 1988, and at the beginning of ZhongWang's venture, he received support from Kao. At that time, ZhongWang was a single company and had not yet formed a corporation.
D-Link Corporation Official Inclusion
In the early stages of its operation, the company faced losses in its first year with an operating profit of -2,96 million NTD. Struggling with a lack of funds, they sought help from Kao at D-Link Corporation. Kao not only contributed from his own pocket but also convinced his younger brother, who was the Chairman of D-Link Technology, to participate in the cash increase of ZhongWang Technology in 1997. The investment amounted to 50,000 million NTD, increasing their ownership stake to 51%. As a result, ZhongWang Technology was renamed to YoWang Technology and became part of the D-Link family, specializing in the manufacturing of PCMCIA cards.
YoWang Tech went public on April 26, 1999, and was listed as a high-tech stock on December 8, 2000. In April 2001, the stock price reached its historical high of 116 NTD. TEJ included YoWang Technology as part of the D-Link Corporation in April 1997.
AboCom (YoWang) System Inc. (G2444)
The Beginning of Slump: Disagreement among the Management Team
In 1999, there were differences in opinions among the top executives of YoWang Tech. Chairman Bing-Yi, Chen and major shareholder D-Link Technology were bullish on Home PNA (Personal Network Alliance), while General Manager Zi-Kun,Ouyang favored Router technology. Ultimately, the decision-making power rested with D-Link Technology, which chose to fully commit to the development of Home PNA, sowing the seeds of future division.
However, the product choice turned out to be a misstep. Despite a promising initial development, Home PNA's transmission speed still could not meet market demands. In 2003, it was surpassed by the growth of ADSL. At that time, ADSL's price competitiveness caused Home PNA to gradually fade away, resulting in YoWang's operating profit plummeting from 103 million NTD in 2002 to -272 million NTD in 2003.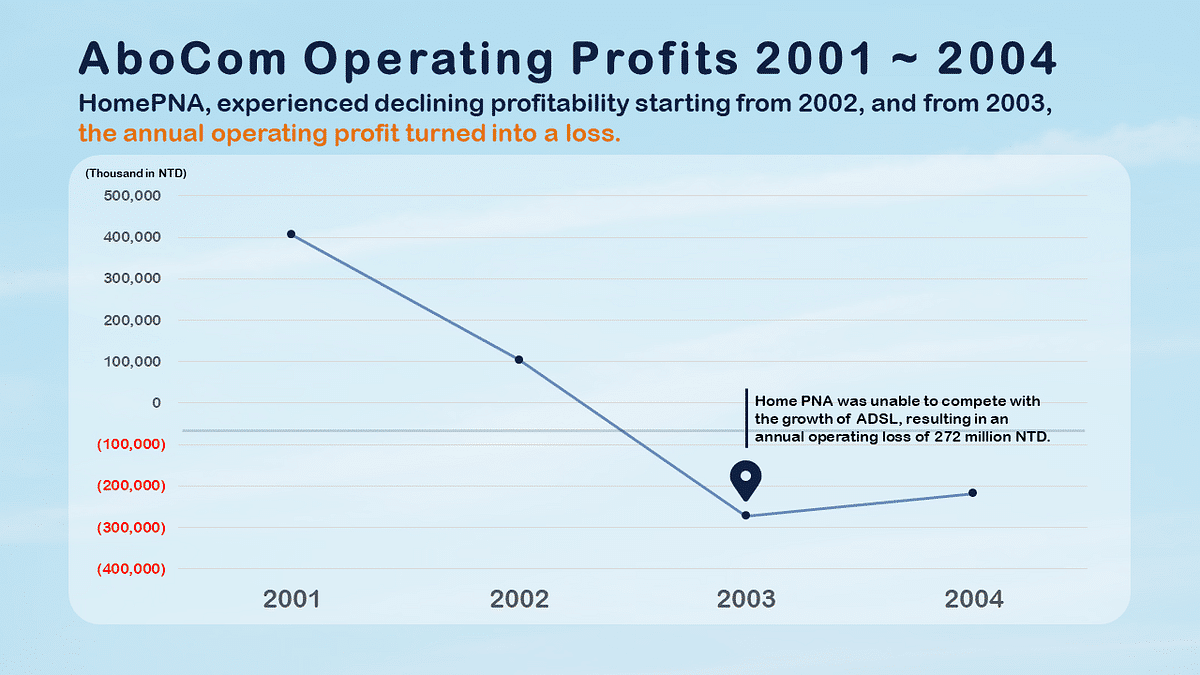 At this time, on December 24, 2002, Bing-Yi, Chen, citing personal financial reasons, transferred more than half of his shares, thereby relinquishing his position as a director and going to the D-Link Group. In June 2003, Ouyang succeeded him as the Chairman. D-Link Group had already started divesting its shares in YoWang Tech since the end of 2001. During a shareholders' meeting, the Chairman of D-Link Technology stated that YoWang Tech had become a non-core investment business, leading to a gradual distancing of the relationship between YoWang and the D-Link Group. However, due to D-Link Group's continued majority ownership and board seats, YoWang Tech was still considered to belong to the D-Link Group, as shown in the table below:
Strategic Collaboration with Memory Giant ADATA (3260.TWO)
After undergoing a two-year transformational period, YoWang Tech decided to develop new products related to Flash technology. In July 2005, they conducted a private placement worth 198 million NTD, bringing in a new major shareholder, ADATA Technology Co., Ltd. (3260.TWO), with a stake of 15.79%. ADATA was already well-established in the memory module and Flash development industry. The two companies joined forces to venture into digital photo frame products, which was initially seen as a promising opportunity for YoWang's transformation. Following the investment, YoWang Tech also received contract orders from ADATA as a partner.
At this point, D-Link Group was no longer the largest shareholder, and as of June 2005, only held one director seat. ADATA Group did not have any director seats, while YoWang Tech Group held one Chairman seat. According to TEJ's assessment, when the number of seats is the same, it should be determined by the Chairman. Therefore, in July 2005, YoWang Tech underwent a change of ownership to become YoWang Tech Group, with managerial governance.
As seen from the table below, as of April 2007, ADATA Group primarily held a combined ownership of 15.57% through ADATA Technology, 兆隆 Investment, 宏琦 Investment, Li-Bai, Chen, and Ling-Juan, Chen. ADATA Group also held one corporate director seat, while the Chairman of YoWang Tech remained Ouyang Zi-Kun, indicating that ADATA Group had no controlling power and no intention to take over the management rights. Hence, TEJ did not consider changing the group structure.
After the strategic collaboration with ADATA, YoWang Tech saw a significant increase in operating profit, reaching a peak of 142 million NTD in 2007. However, following this period, YoWang Tech's profitability was still negatively impacted by the industry environment, resulting in several years of losses. Only in 2012, the company managed to generate a profit of 13.89 million NTD. In April of the same year, the ADATA Group divested its holdings in YoWang Tech, bringing an end to the seven-year strategic cooperation.
AboCom System Inc. (G2444A)
Fake transaction isn't the first time
In 2015, after experiencing a two-year transformational period, YoWang Tech considered handing over the management rights and approached YangHwa Technology for discussions. However, due to the financial constraints, YangHua could only obtain director and supervisor positions through their controlled companies. Realizing that he could not exit the company, Ouyang became involved in a cycle of false transactions with them, earning a 4% profit margin. Unfortunately, on June 16, 2015, YangHwa Technology was searched by the authorities and unable to make payments, leading YoWang Tech to recognize 132 million NTD as bad account. As a result, the operating profit shifted from 29 million NTD profit in 2014 to a loss of 36.54 million NTD in 2015. In April 2017, the Insurance Bureau sued to remove Ouyang from his director position for failing to fulfill his responsibilities. However, Ouyang was later successfully re-elected as the Chairman.
In November 2017, the market-oriented supervisor, Shi-Fu, Tsai (representative of Benefits UP), called an extraordinary shareholders' meeting to remove the originally biased company-appointed 5 directors and 2 supervisors, of which YoWang Group held 3 seats. In response, the company-appointed party also held an extraordinary shareholders' meeting the day before to counter-remove market-oriented supervisors. Unexpectedly, the meeting called by the company-appointed faction failed, and the market-oriented faction succeeded in passing a vote of no confidence against the company-appointed faction the next day, heralding a change in YoWang Tech's management.
Venturing into the biotechnology field?
In 2018, YoWang Tech filled the vacancies for 3 directors and 2 supervisors. The new members appointed to the board had mostly backgrounds in the biotechnology field (such as Xiang-Chuan, Yang, Kai-Yan, Zhang, Li-Ren, Zhang etc.). The significant gap in expertise between the company's business and its management raised suspicions about whether YoWang Tech was transitioning to the biotechnology industry, leaving uncertainty about the company's future direction. In the same year, "YoWang" changed its name to "AboCom," indicating a change in direction from the previous management team.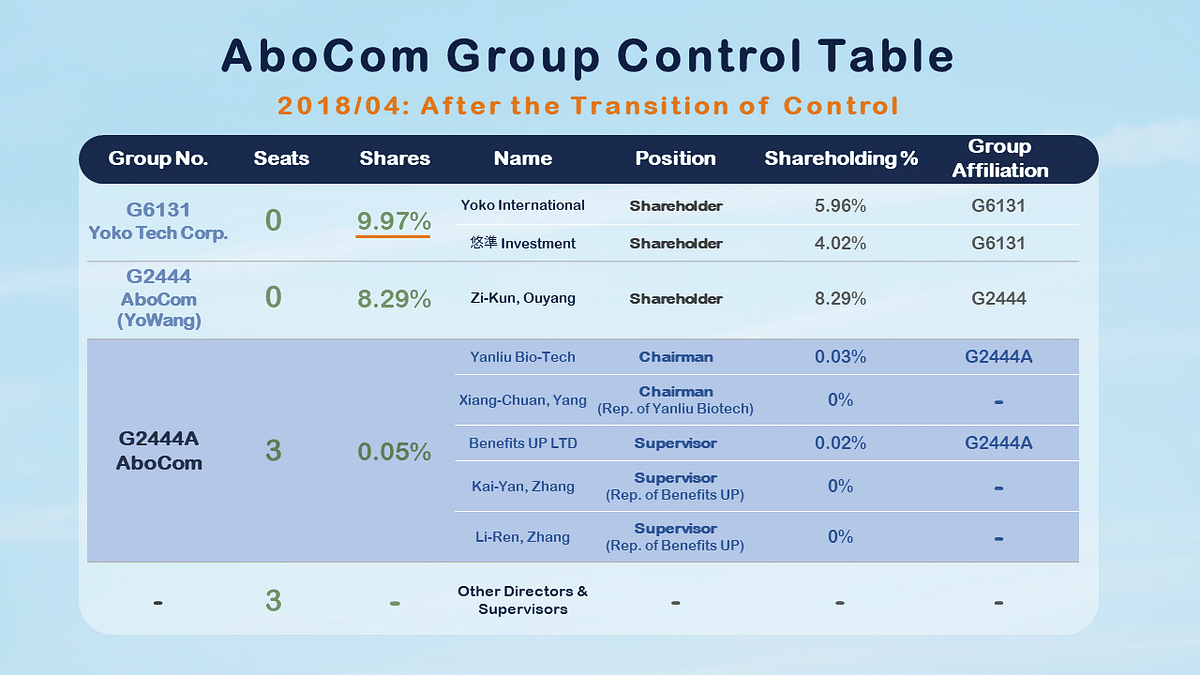 Based on the shareholding and board seat data in April 2018, as shown in the table, YoWang Tech lost control over its board seats and shareholding. According to TEJ's rules for group leadership succession, the largest shareholder in April 2018 was Yoko Tech Corp., but Yoko Tech Corp. did not have control over board seats. Therefore, AboCom should be considered part of the new group, AboCom Group, which held 3 director seats with only 0.05% shareholding.
Summary of Current AboCom
Since its establishment, AboCom once secured a place in the industry with the success of PCMCIA. However, due to differing views on the future market among the management team during the early stages, the company's long-term competitiveness declined, and the seeds of management disintegration were sown.
Nevertheless, AboCom's management still actively sought to enter broader markets through alliances with other industries. However, from a financial perspective, the profits brought about by AboCom's active transformation were fleeting; the industry's competition intensified, making survival even more challenging. In these circumstances, the last founding veteran, Zi-Kun, Ouyang, also attempted to leave the management team in 2015, but instead found himself entangled in a fake transaction scandal.
Now, the original founding members have completely left the management team, and the baton of leadership has been passed to individuals with a background in biotechnology. AboCom continues to progress on its transformation journey, and after expanding its business scope and developing new products, it returned to profitability since 2021. However, whether this momentum of profitability can be sustained or if it will be short-lived like in the past remains a question, and this question again raised due to the recent fake transaction incident.
---
Read More
Want to know more?
TEJ, with nearly 20 years of experience in corporate governance recognition, provides a consistent and verifiable basis for identifying the ultimate controllers of groups. By incorporating the TCRI (Taiwan Corporate Credit Rating Index), which has nearly 30 years of company credit rating data, TEJ introduces a quantified model to unveil the credit risk levels of these groups.
Through TEJ GCRI Index, you can access information about the affiliation of each company to its respective group, inclusion and withdrawal dates, and reasons for such actions. Additionally, comprehensive annual financial data and group credit risk levels (GCRI) are available for each group.
For more information, please refer to TEJ Credit Risk Solution!
If you have any questions about this article or want to obtain further access to the TEJ database, please feel free to leave a comment, call, or mail us.
About us
⭐️ TEJ Website
⭐️ LinkedIn
✉️ E-mail: tej@tej.com.tw
☎️ Phone: 02–87681088