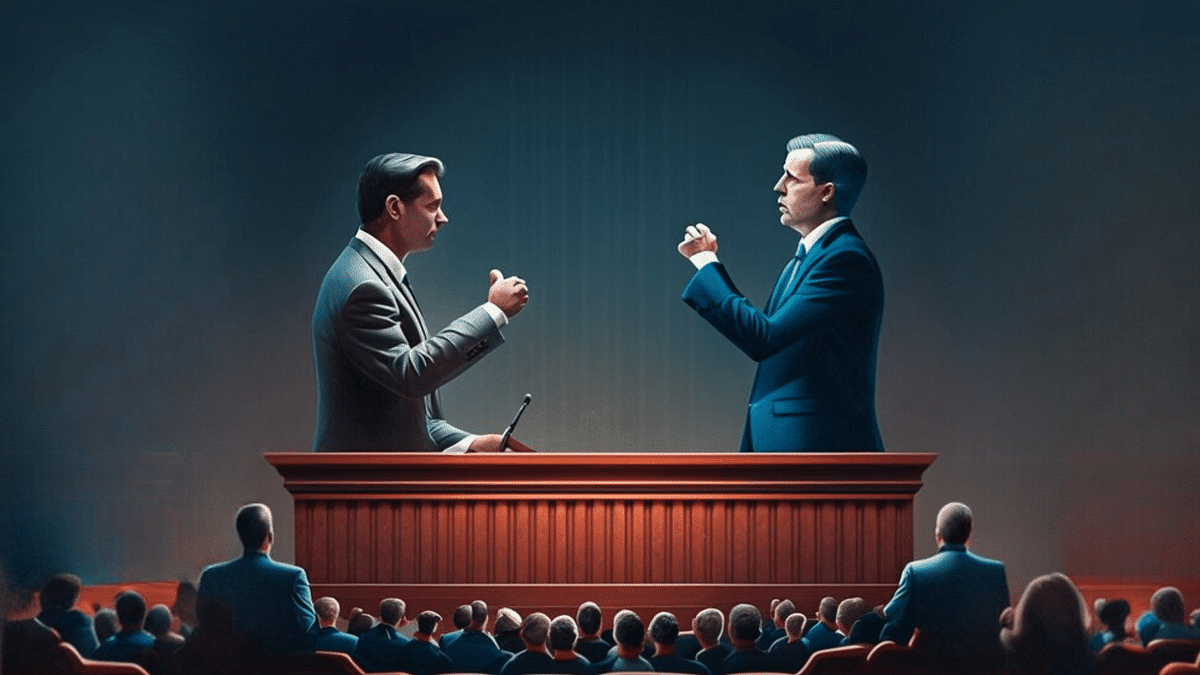 Preface
In the previous article, we delved into the undisclosed financial reporting issues at Chung Fu, providing readers with a basic understanding of the company. At its core, this event stems from an internal struggle for control, a common battle between the company's management and market factions. In fact, the ownership dispute at Chung Fu had its origins several years ago. Back then, the company's management failed to actively utilize its assets and pursue growth, prompting the market faction to embark on a reform mission at Chung Fu. They successfully gained control of the company through a shareholder vote in 2022.
Unfortunately, despite the market's high hopes for the company's prospects, Chung Fu's operations failed to show any signs of improvement. The new management became embroiled in a power struggle with the former chairman, diverting their focus away from running the company. This even led to a suspension of trading due to delayed financial report filings. With the change in ownership, the back-and-forth battles between the two sides only added to the confusion. As various narratives emerged, the truth became increasingly elusive. What were the underlying causes of the internal issues at Chung Fu? This article will provide a detailed account of the ownership dispute at Chung Fu, the clashes between the company and market factions, and ultimately, the implications of the Chung Fu crisis on us as investors.
The Spark and Prelude to the Ownership Battle
In 2020, a surprising surge in ChungFu's stock prices captured the market's imagination, with 2022 seeing repeated upper Limit breaks. How did this long-standing company with an average monthly revenue of just 1 million NT Dollars transform into a market sensation so quickly? What's fueling the stock surge, given no apparent turnaround in operations?
The market's fascination with Chung Fu primarily stems from its valuable land assets, notably a 21,000-square-meter plot in Zhongli, Taoyuan, and an office building in Zhonghe, New Taipei City. These holdings are highly prized, with the Zhongli plot alone estimated at 3 to 4 billion NT Dollars. This has turned Chung Fu into a coveted asset stock, attracting investors and market attention. Before the current ownership dispute, 2020 saw concerns over weak corporate governance, leading to a board election contest between the company and market factions.
A year later, the battle for control resurfaced, shining a spotlight not only on Chung Fu's land assets but also symbolizing new players entering the scene. The market's expectation of asset revitalization under fresh management has been revived.
Market Party Acquires Shares as Preparation for Upcoming Battle
According to TEJ Group's Credit Risk Observer statistics, starting from April 2020, the market party, led by Giant Trading, began acquiring shares of Chung Fu. Initially, individuals like HongLin Weng, ZhiHong Huang, and JiaWen Huang (spouse of Chen Jian) were involved. Next year, current Chairman Jian Chen, ZhuMei Xu, and ZhenChang Huang, among others, also began purchasing Chung Fu shares in the market. This indicates that the market party has been gearing up for the ownership battle.
From the chart above, we can see that Giant Trading and the broader market faction collectively held only 9.62% of shares in 2020. However, in 2021, they significantly increased their holdings to 25.22%. In August of the same year, they successfully secured a board seat for Giant Trading's representative, HongLin Weng. Before the change in ownership, the market faction and the broader market faction held a combined 28.99% of shares, gradually closing in on the company faction's 42.48% ownership. If the majority of the remaining shareholders support the new reformist group, winning control of the company is indeed a possibility.
Furthermore, of note is the intriguing connection to a suspected insider trading incident involving HappyTuk (7584) in March 2023. Chung Fu's market faction members, Jian Chen and ZhuMei Xu, along with independent directors HongLin Weng and RongZhi Gao, are linked to HappyTuk. The controversy surrounding the new management is not unique, and upon closer examination, the market party's acquisition of Chung Fu's share may be related to realizing the value of Chung Fu's land assets.
Company Party Strengthens Its Position to Counterbalance Market Party
Faced with the market faction's strategic moves, Chairman Huang Lizhong, representing the company faction, did not remain passive. On December 16, 2020, he transferred the 51% ownership of Fu Hsing Investment, a subsidiary of Chung Fu, to his private company, Chung Fu Integrated Marketing. The question arises: both Fu Hsing Investment and Chung Fu Integrated Marketing are controlled by members of the company faction. So why did he shift ownership from his left hand to his right hand?
LiZhong Huang Shifts Shares to Gain More Voting Power
The above question can be answered through the cross-shareholding between Chung Fu and Fu Hsing Investment. According to TEJ Group's Credit Risk Observer, Chung Fu holds 99.99% of Fu Hsing's shares, which is over 51%, making Fu Hsing a subsidiary of Chung Fu. How does this affect the company faction? It has a significant impact. Under IFRS accounting rules, when a subsidiary holds shares of its parent company, those shares are treated as treasury stock. Therefore, Fu Hsing's 10.32% ownership of Chung Fu was considered treasury stock, and treasury stock does not have voting rights.
From LiZhong Huang's perspective, countering the market faction's preparations became paramount. He wisely sold Fu Hsing Investment's 51% ownership to Chung Fu Integrated Marketing at 7.03 NT Dollars per share, severing the subsidiary relationship and granting voting rights. Subsequently, he acquired more Chung Fu shares through Fu Hsing, amassing an 11.3% stake in the company.
LiZhong Huang's actions may appear reasonable and legal. However, the issue lies in the fact that he sold his ownership on December 11, 2020, but didn't disclose this significant information until February of the following year. Additionally, the price of 7.03 NT Dollars per share has raised doubts among the market faction, who suspect questionable valuation standards and the possibility of undervaluing assets.
Key Move by Independent Director Leads to Ownership Change
Both company and market factions are ready for this ownership battle. The market faction's major shareholders collectively hold nearly 30% of the shares, while the company faction holds slightly over 40%. The next critical step is to hold an extraordinary shareholder meeting to propose the removal of opposing directors and the election of new ones. But who can call this meeting? It can be initiated by shareholders with over half of the shares or those who have held shares for three months. Another party with the authority to convene, acting as a third-party overseeing corporate governance, is the independent directors in this ownership dispute.
Are Independent Directors Truly 'Independent'?
Chung Fu has three independent directors, namely JunTing Lin, who is an accountant, JinCheng Wu, and RongZhi Gao, both of whom are lawyers. According to the nomination list for the extraordinary shareholder meeting held on August 17, 2022, JunTing Lin was nominated by the company faction as an independent director, while JinCheng Wu and RongZhi Gao were nominated by the market faction as independent directors. In analyzing this ownership battle, understanding the positions of these three independent directors is crucial, with RongZhi Gao, who is more directly linked to the delayed financial reporting, being particularly significant.
Do you still recall the earlier mentioned incident of delayed financial reporting? Initially, it occurred because Independent Director RongZhi Gao didn't attend audit committee meetings, causing the reporting delay. Why he missed those meetings and his connection to the whole situation are crucial questions. Since becoming an independent director in 2021, RongZhi Gao has been a vocal critic of the company faction's management practices. A significant moment was his letter titled "Shareholder Activism Begins with Voting," sent before the August 2022 extraordinary shareholder meeting. Later, he also confronted the company faction, highlighting three major issues with the former management team: (1) illegal land sales, (2) the Fu Hsing case involving related-party transactions, and (3) undermining the authority of the audit committee.
Of course, the company party has countered by arguing that although RongZhi Gao claims to "strengthen corporate governance," his actions, such as (1) not attending audit committee meetings, (2) removing the former auditor, and (3) raising the threshold for the new auditing firm, have contributed to the subsequent delays in financial reporting and do not prioritize the company's best interests.
During that time, doubts emerged regarding the independence of independent directors, as their roles seemed to be used as tools in the power struggle between factions. Independent directors should prioritize overseeing corporate governance in the company's best interests. When they get embroiled in ownership disputes, even causing operational issues, shareholders like us should question whether they still uphold an unbiased, third-party stance. In fact, if it becomes evident which faction an independent director aligns with, it underscores the issue of their insufficient independence in their role.
Double Showdown of Shareholder Extraordinary Meeting, the Market Party Ultimately Seizing Control!
Under the pressure of increased market faction shareholding and multiple allegations by RongZhi Gao, the battle for ownership reached its most intense moment. Chung Fu's company faction initially held a shareholder meeting on June 30, 2022. However, due to attendance falling short of the majority, the planned resolutions for board elections and removals could not be carried out. On that day, both sides' independent directors, JunTing Lin (company faction) and RongZhi Gao and JinCheng Wu (market faction), simultaneously announced an extraordinary shareholder meeting scheduled for August 17. This left shareholders in a dilemma, unsure which meeting to attend and which faction to support. Fortunately, JunTing Lin's convened extraordinary meeting eventually adjourned due to insufficient attendance, putting an end to the chaotic situation of dual meetings.
Finally, on August 17, 2022, with the market faction and RongZhi Gao gaining control of the extraordinary shareholder meeting, the market faction secured a majority of the votes to remove three incumbent directors from the company faction and elected two new directors, RongMu Lu and JiaZhen Lin. Together with the existing director HongLin Weng and independent directors RongZhi Gao and JinCheng Wu, the market faction now holds 5 out of 7 board seats, marking the change of ownership!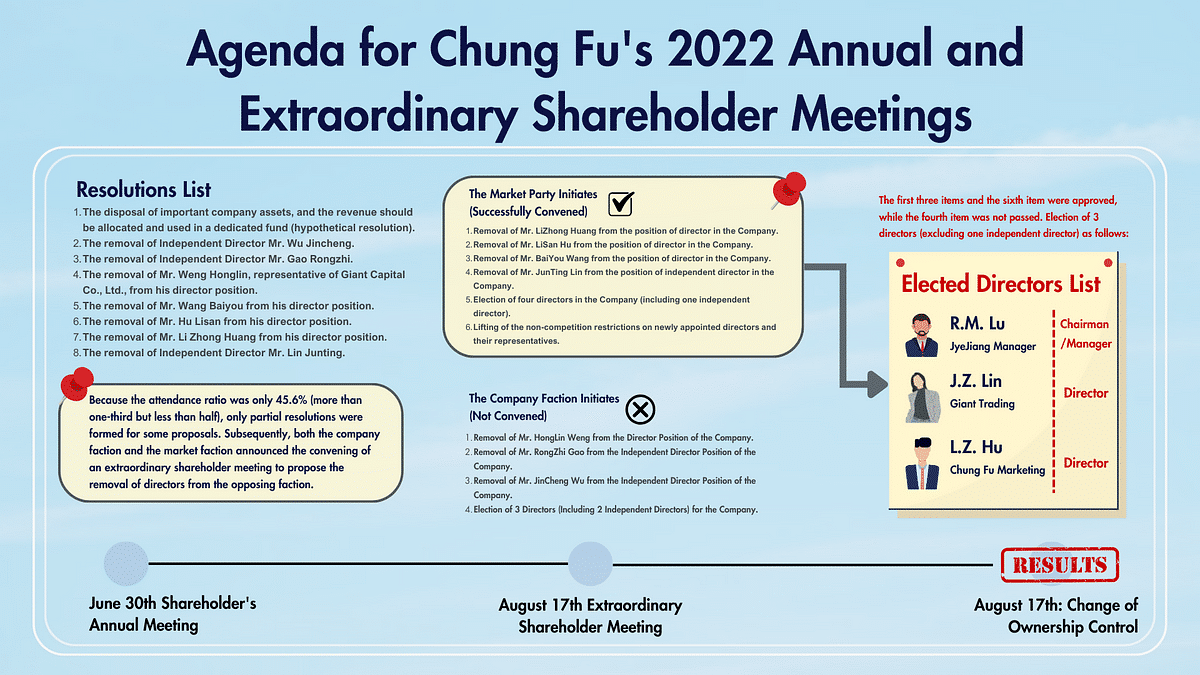 Inadequate Handover Poses a New Challenge
While the market hoped for improved governance under the new management, Chung Fu's ownership remained unstable. The new management accuses former chairman LiZhong Huang of causing leadership issues, while Huang argues that employees left voluntarily due to dissatisfaction with the new team. Property rights for valuable assets like the factory and office space haven't been transferred, making it difficult to manage or lease them. Amidst these challenges, management is focused on the battle with former directors, impacting the company's operations and leaving uncertainty about when stability will return.
The Warning of Unstable Ownership of Chung Fu
In summary, Chung Fu's ownership instability lies at the heart of its delayed financial reporting, putting the company's operations at risk and pushing it toward potential delisting. Although LiZhong Huang and Jian Chen claim to act in the company's best interest, their actions have compromised corporate governance…
As investors, how can we avoid companies going through such contentious ownership disputes as seen in the Chung Fu case? Here are some key takeaways from this situation:
Watch for shifts in share & ownership: Be alert to significant ownership changes between the company's management and shareholders, as it may indicate governance issues and brewing ownership conflicts.
Scrutinize independent directors: While independent directors are supposed to oversee corporate operations, their independence can be compromised during ownership battles. Carefully assess their motivations.
Double shareholder meetings: When two extraordinary shareholder meetings are called on the same day, it may signal an intensifying ownership dispute, leading to increased uncertainty for the company and shareholders.
In conclusion, while the Chung Fu ownership battle has reached a certain conclusion, ongoing disputes and legal actions are likely. With less than three months until the expected delisting date, staying vigilant regarding corporate governance events, making prudent decisions, selling when necessary, and avoiding losses due to malicious competition is essential for investors!
---
Read More
Want to know more?
TEJ, with nearly 20 years of experience in corporate governance recognition, provides a consistent and verifiable basis for identifying the ultimate controllers of groups. By incorporating the TCRI (Taiwan Corporate Credit Rating Index), which has nearly 30 years of company credit rating data, TEJ introduces a quantified model to unveil the credit risk levels of these groups.
Through TEJ GCRI Index, you can access information about the affiliation of each company to its respective group, inclusion and withdrawal dates, and reasons for such actions. Additionally, comprehensive annual financial data and group credit risk levels (GCRI) are available for each group.
For more information, please refer to TEJ Credit Risk Solution!
If you have any questions about this article or want to obtain further access to the TEJ database, please feel free to leave a comment, call, or mail us.
About us
⭐️ TEJ Website
⭐️ LinkedIn
✉️ E-mail: tej@tej.com.tw
☎️ Phone: 02–87681088