Preface
ESG bonds are issued in the same way as regular bonds, but the difference lies in the use of the funds, which is the most important reason to differentiate ESG bonds from regular bonds.
Certification Standards
The Definition of ESG
ESG is an acronym derived from the initials of the words Environment, Social, and Governance. These three pillars serve as crucial indicators for assessing the sustainability of a business. Since the United Nations introduced the concept of ESG in 2005, it has evolved to become a significant focal point of interest for investors.
Concept of ESG Bonds
ESG bonds are financial instruments derived from the ESG, issued in the form of bonds to achieve the sustainable business objectives set by companies. The most widely recognized standards for defining ESG bonds in the current market are those published by the International Capital Market Association (ICMA), including the Green Bond Principles (GBP), Social Bond Principles (SBP), and Sustainability Bond Guidelines (SBG). These three standards collectively encompass four core elements: "Use of Proceeds," "Evaluation and Selection of Investment Projects," "Funds Management," and "Regular Reporting."
Certification of ESG Bonds
In recent years, with the rise of sustainable finance, the ICMA has established a set of defining standards for the financial markets. These standards encompass the Green Bond Principles (GBP), Social Bond Principles (SBP), Sustainability Bond Guidelines (SBG), and Sustainability-Linked Bond Principles (SLBP). Through this framework of principles, the aim is to facilitate the role of the global debt capital market in financing environmental and social sustainability.
The ASEAN Capital Markets Forum (ACMF) acknowledges the inevitability of intensified climate change and considers the development of sustainable finance crucial. Financing through the financial markets is seen as a cornerstone for promoting and developing sustainable finance. To support the growth of the ASEAN region, especially in meeting infrastructure needs, ACMF has pioneered sustainable financial asset categories. Aligned with the ESG bond principles issued by ICMA, ACMF has formulated the ASEAN Green Bond Standard (GBS), ASEAN Social Bond Standard (SBS), and Sustainable Development Bond Standard (SUS). These standards aim to enhance transparency, consistency, and uniformity in ASEAN green, social, and sustainable development bonds, ultimately aiding the development of new asset categories, reducing due diligence costs, and assisting investors in making informed investment decisions.
In July 2021, Taiwan's regulatory authority, the Taiwan Stock Exchange (TWSE), became the fifth exchange in the Asia-Pacific region to join ICMA as a formal member. Following ICMA's GBP, SBP, and SBG, TWSE established a framework for the sustainable development bond market in Taiwan. Issuers in Taiwan seeking to issue sustainable development bonds are required to apply for qualification approval from TWSE. They must provide a plan that complies with international financial market conventions, including evaluation reports on the use of funds and assessments of fund management from relevant institutions or organizations. Regular reporting of relevant information is also mandatory, contributing to the realization of sustainable development, supporting corporate sustainability transformation, and making sustainable development a new value goal for Taiwan.
Types of ESG Bonds
ESG bonds come in various types, including Green Bonds, Social Bonds, Sustainability Bonds, and Sustainability-Linked Bonds. Here's a brief introduction to each type:
Green Bond
Green Bond means that the funds raised by the bond must be related to environmental protection, such as green building, water management, air pollution prevention, and energy conservation. All can be classified as a project. However, the bond issue must comply with GBP.
The concept of green bonds originated in Scandinavia. It was jointly proposed by the World Bank, the Swedish Scandinavian Bank (SEB), and the Climate Change Professional Organization (CICERO) to improve the global climate environment and mitigate climate change. The world's first green bond was the "Climate Awareness Bond" issued by the European Investment Bank (EIB) in 2017. Since then, the concept of green bonds has been widely favored by governments, enterprises, and international financial companies, and the discussion of related issues has gradually expanded.
The first green bond in Taiwan was a US$300 million three-year corporate bond issued indirectly through a 100% owned subsidiary of Advanced Semiconductor Engineering, INC in 2014. It pioneered the green bond market in Taiwan and was the first green bond issued by a corporation in Asia. Since then, green bonds have gradually become popular in Taiwan's financial market, and the number of green bonds issued each month has increased. The use of the funds raised by the company is as follows: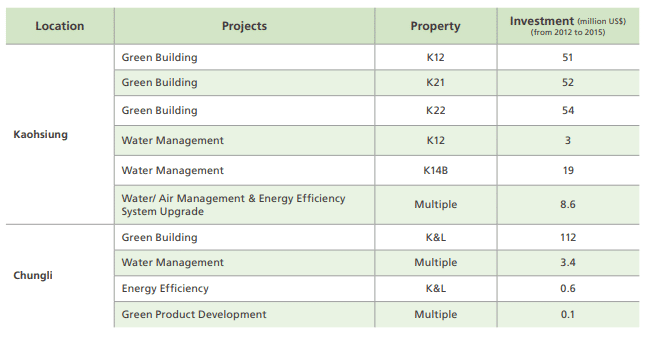 Social Bond
The core concept of socially responsible bonds is that all funds raised should be used for investment projects that have a "positive impact" on society. The SBP lists six significant categories of investment projects, namely "affordable infrastructure," "basic service needs," "affordable housing," "job creation," "food security," and "socioeconomic development and rights protection."
The investment purpose of socially responsible bonds must include, but not be limited to, the six categories listed above. Moreover, it must provide a sound and transparent investment plan for evaluation by ICMA or other external certification bodies to determine compliance and achieve positive social benefits.
Taiwan's first domestic corporate social responsibility bond was a NT$1.2 billion five-year corporate bond issued by Far Eastern New Century in May 2021, with the primary investment purposes including social benefit investment projects, protection of disadvantaged groups, and provision of materials for the fight against Newcastle pneumonia. The first domestic CSR bond issued by the financial sector in Taiwan was issued by CITIC Bank in May of the same year, the primary purpose of which was social and economic development and rights protection.
Sustainability Bond
A sustainable bond is a bond whose use of funds covers both green and socially responsible bonds and must meet the four core elements mentioned above and comply with the ICMA's SBG. Since using funds for sustainable bonds includes environmental and social areas, whether a bond is sustainable should be based on the use of funds as stated in the investment plan report.
The first sustainability bond in the world to be certified by a certification body, Vigeo Eiris, was issued in 2012 by the French region of Ile-de-France. It used the funds raised for ecological transformation and social development projects aligned with the SBG and contributed to the world's sustainable development goals.
CITIC Bank also launched the first sustainable development bond in Taiwan, a $1 billion five-year unsecured bond to be issued in 2020, with funds raised mainly for green and socially beneficial investment projects.
Sustainability-linked Bond
Sustainability-linked bonds, also known as sustainability target-linked bonds, are bonds whose terms of issuance are linked to corporate sustainability key performance indicators and sustainability performance targets (e.g., reduction of carbon emissions, reduction of electricity consumption, etc.). There is no mandatory requirement that the funds raised be related to environmental or social issues. A standard issuance method is to include an interest rate escalation mechanism in terms of the bond issue, i.e., to set a sustainability performance target and to increase the bond coupon rate if the company does not achieve the target.
However, if a company wants to issue SLBs, how can it make investors understand and be willing to invest? To this end, ICMA has issued a set of voluntary guidelines, the Sustainability Link Bond Guidelines (SLBP), to provide and encourage companies to follow the SLBP to establish a structure and market based on the SLBP gradually and to enhance the mutual trust of market participants. The SLBP consists of five core elements: "Selection of Key Performance Indicators," "Calibration of Sustainability Performance Targets," "Bond characteristics," "Reporting," and "Verification." Under the SLBP, key performance indicators (KPIs) must be measurable or quantifiable, and sustainability performance targets (SPTs) are key to the construction of the SLB, i.e., the SLB uses the achievement of SPTs as the basis for changes in bond terms.
The first SLBs in Taiwan was recently issued: a 5-year $2.5 billion corporate bond issued by Far Eastern New Century and a 5-year $1 billion corporate bond issued by Chi Mei Corporation. The issuance of these two SLBs is a significant milestone for Taiwan's sustainable development investment market and will undoubtedly bring a new atmosphere to the market.
Rising Awareness: ESG Bonds Driving Green Transformation
With growing awareness of sustainability, ESG bonds are emerging as catalysts for green transformation. According to the Taipei Exchange's statistics as of October 2023, there are currently 158 outstanding ESG-related bond issuances with a total outstanding amount of NT$471.58 billion. This year alone has seen the issuance of 39 ESG bonds, reaching a record-breaking NT$132.8 billion. The development and positioning of ESG bonds in the financial market have garnered increasing attention. More companies are utilizing ESG bonds to secure funding for green transformation, expanding the role of ESG bonds in corporate sustainability and global environmental initiatives. This trend not only supports companies in their sustainable development but also provides investors with a more diversified range of investment options.
Read More:
---

Want to know more?

TEJ has gone to great lengths to include ESG bonds. All bonds approved and applied for over-the-counter trading, such as green bonds, socially responsible bonds, sustainability bonds, and sustainability-linked bonds, are included in our collection according to the Over-the-Counter (OTC) Sustainable Development Bond Practice Guidelines. The following picture shows a part of the database:
If you have any questions about this article or want to obtain further access to the TEJ database, please feel free to leave a comment, call, or mail us.
About us
⭐️ TEJ Website
⭐️ LinkedIn
✉️ E-mail:finasia@tej.com.tw
☎️ Phone: 02–87681088
Your encouragement drives us to continue sharing more on TEJ Dictionary!
If you think this article is helpful, click the clap button until it hits 50. You can also leave a comment and share any ideas with us.