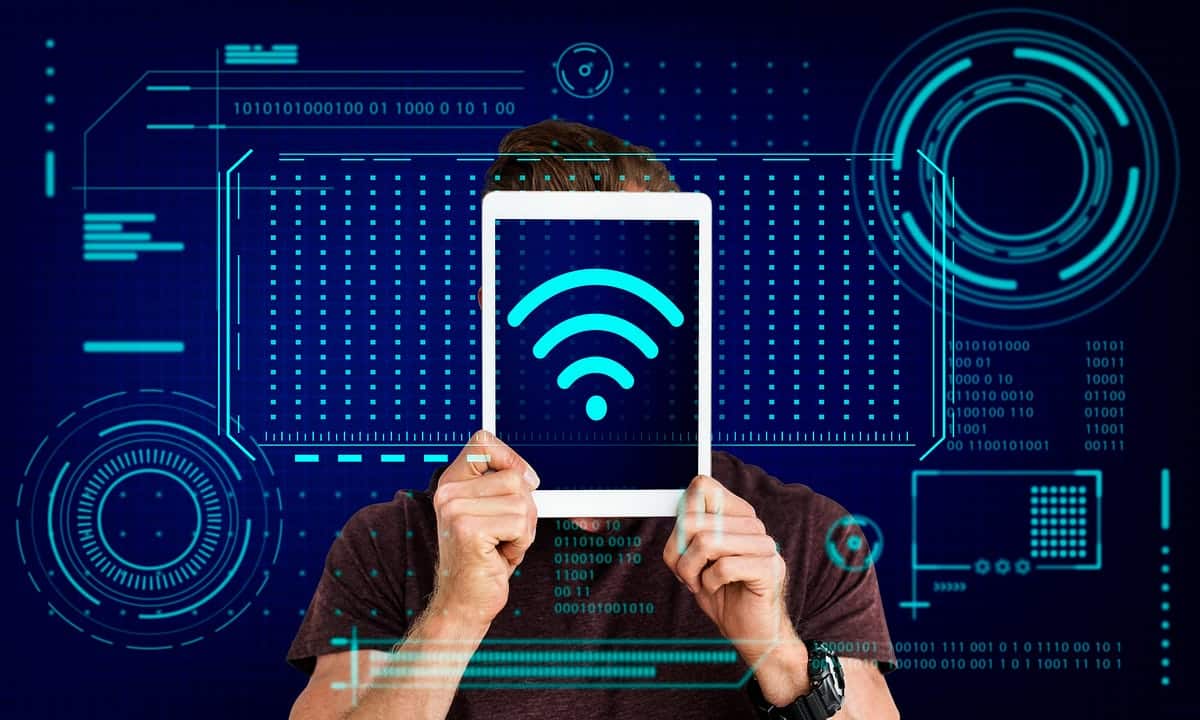 Preface
Benefiting from : (1) Upgrading capabilities of Taiwanese Networking Communication manufacturers, (2) Global demand for broadband infrastructure, (3) Continued growth in 5G subscribers, and (4) Easing chip shortages, Taiwan's Networking Communication companies experienced a significant surge in revenue in 2022, reaching a total of NT$536 billion NTD, YoY growth of 26%. Apart from these driving factors, what other advantages does Taiwan's Networking Communication industry possess? Within the industry chain, how are Taiwan's manufacturers? This article begins by introducing the industry chain and major types of ICT equipment in Taiwan, followed by an explanation of the business model and global market scale of networking communication industry. Finally, this article will analyze the current state of the industry and recent growth factors in Taiwan's Networking Communication industry, helping you seize the key to invest in this industry.
Taiwan's Networking Communication Industry Chain
As shown in the diagram, the upstream of networking communication industry chain primarily consists of semiconductor ICs, electronic components, and other materials. In terms of semiconductor ICs, there are telecommunications-related ICs, while electronic components include power suppliers, passive components, and metal and plastic casings, among others. The midstream is where Taiwan's networking communication industry is predominantly concentrated, encompassing network equipment and communication devices, which will be the main focus of this article. The downstream primarily consists of the recipients of shipments from midstream networking communication manufacturers, namely telecommunications brands and telecom operators. They are responsible for selling products to household consumers.
Networking Communication Equipment: Types & Purposes
Network Equipment: Primarily used for receiving fixed-line signals provided by telecommunications companies, connecting local area networks, establishing network environments, and receiving television signals provided by cable TV providers. This category includes modems, routers, hubs, switches, Wi-Fi equipment, and set-top boxes.
Communication Equipment: Mainly consists of equipment used by telecommunications companies and devices for receiving satellite signals, such as navigation equipment. Due to the relatively closed nature of the networking communication equipment industry chain, Taiwan's manufacturers only have a presence in small-scale base stations, navigation equipment, and related components such as optical transceivers, antennas, microwave power amplifiers, and satellite receiving systems.
The Nature of Taiwan's Networking Communication Manufacturers
Taiwan's networking communications manufacturers operate primarily through three business models: OBM, OEM, and ODM. The first model is OBM (Original Brand Manufacturer), where networking communications companies have their own brands and directly sell products to household consumers or telecom operators. The second and third models involve OEM (Original Equipment Manufacturer) and ODM (Original Design Manufacturer), where manufacturers produce goods on behalf of networking communications brands. The products are then shipped to household consumers and telecom operators through these networking communications brands. The major operating models for Taiwanese networking communications manufacturers are the second and third models.
Global Ranking of Networking Communication Brands
According to DELL'Oro's 2022 report, the global revenue for networking communications equipment amounted to approximately $100 billion, with the top seven suppliers accounting for around 80% of the market. Huawei secured the first position with a market share of approximately 30%, followed by Nokia and Ericsson, each with a market share of around 15%. It is noteworthy that Huawei and ZTE's networking equipment continued to maintain top positions globally despite countermeasures from advanced countries. There are two main reasons for this: (1) The Chinese domestic networking market has a substantial demand (China has 2.31 million 5G base stations in 2022, accounting for 60% of the global total). (2) Chinese networking equipment is relatively cheaper compared to other major vendors. In countries where Chinese 5G equipment has not been banned, the cost advantage of Chinese equipment in 5G deployment has led to an increase in their market share.
However, an increasing number of countries are banning Chinese equipment from Huawei and ZTE citing national security reasons, and China's 5G equipment deployment has reached a peak. As advanced countries dismantle previously installed Chinese 5G equipment, such as the UK planning to remove all Huawei equipment by 2027 and US legislation providing subsidies for removing Chinese 5G equipment starting in 2022, the market share of Huawei and ZTE is expected to gradually decrease. This is a significant development to monitor in the future.
Current Situation of Taiwan's Manufacturers
In Taiwan, there are 27 network equipment manufacturers with a revenue of NT$370.7 billion in 2022, growing by 29% YoY. Nine companies, including Accton, Sercom, and Arcadyan etc., achieved revenues exceeding NT$10 billion. There are 39 communication equipment manufacturers with a revenue of approximately NT$165.3 billion in 2022, growing by 22% YoY. Only WNC and Azurewave surpassed NT$10 billion in revenue. Based on DELL'Oro's 2022 statistics, Taiwan's market share is at about 18%. Key points from the analysis are as follows:
A. US-China Trade War
In 2018, based on Section 301, the United States conducted an investigation and imposed tariffs on nearly 7,000 Chinese goods, amounting to approximately $250 billion in trade. The list of tariffed items included networking products such as switches, navigation equipment, routers, modems, fiber optic cables, set-top boxes, 5G terminal equipment, and passive components.
Before the US-China trade war, several Taiwanese networking communications manufacturers had subsidiaries in China, and their production capacity heavily relied on China. Therefore, the Taiwanese networking communications industry was among the most directly affected industries when the trade war broke out. Consequently, companies swiftly began actively transferring production capacity from China back to Taiwan or Southeast Asia. The table below shows five companies with a higher degree of production capacity relocation:
According to the table, CAMEO had 90% of its production capacity in China before the trade war. However, after the trade war, it relocated all of its production capacity back to Taiwan. Hitrontech had 80% of its production capacity in China before the trade war. Following the trade war, it relocated its production capacity back to Taiwan and established a new factory in Vietnam, fully moving out of China. Gemtek had approximately 90% of its production capacity in China before the trade war. Afterward, it promptly opened a new factory in Vietnam, resulting in a decline in production capacity in China to 30%. The remaining two companies also reduced their production capacity in the US and transferred it to Southeast Asian countries.
B. Global Broadband Infrastructure Legislation
The chart above summarizes recent relevant acts and plans for broadband infrastructure in various countries. Advanced countries such as the United States, Europe, and the G7 nations have introduced bills or national plans with government support to drive digital transformation. For instance, the United States proposed Infrastructure Investment and Jobs Act in 2021, which includes a five-year broadband infrastructure legislation with a budget of $65 billion. The European Union has also presented a digital transformation plan with the goal of achieving 1Gbps household internet speeds by 2030. The G7 nations' infrastructure bills are expected to invest $600 billion, including provisions for broadband infrastructure; however, specific details of the plans have not yet been revealed and will be followed up on.
In South America and India, digital upgrade and network speed enhancement initiatives are being driven by telecommunications companies. However, as these initiatives primarily target telecom operators, the scale may not be as significant as the legislation and plans implemented by governments in Europe and the United States.
C. Continuous Increase in 5G Subscribers
According to Ericsson's Mobility Report for 2022, as of the end of 2022, there were approximately 1 billion global 5G subscribers. The number of users is still in the early stages, accounting for only about 10% of all mobile users. However, by 2028, the number of 5G subscribers is expected to significantly increase to 5 billion, representing 55% of all mobile users.
One significant difference between 4G and 5G is the spectrum used. 5G operates in higher frequency bands compared to 4G. While 5G offers advantages such as low latency, high speed, and larger bandwidth, it also has drawbacks, including lower diffraction and penetration capabilities. As a result, the number of 5G base stations required within the same coverage area is more than three times that of 4G base stations.
Given the high cost of deploying 5G base stations, many telecom operators opt to utilize 5G small cell towers to enhance signal coverage. This presents an opportunity for Taiwanese small cell tower manufacturers to benefit from the increased demand for 5G infrastructure.
D. Easing Chip Shortages and Strong Demand for Networking Products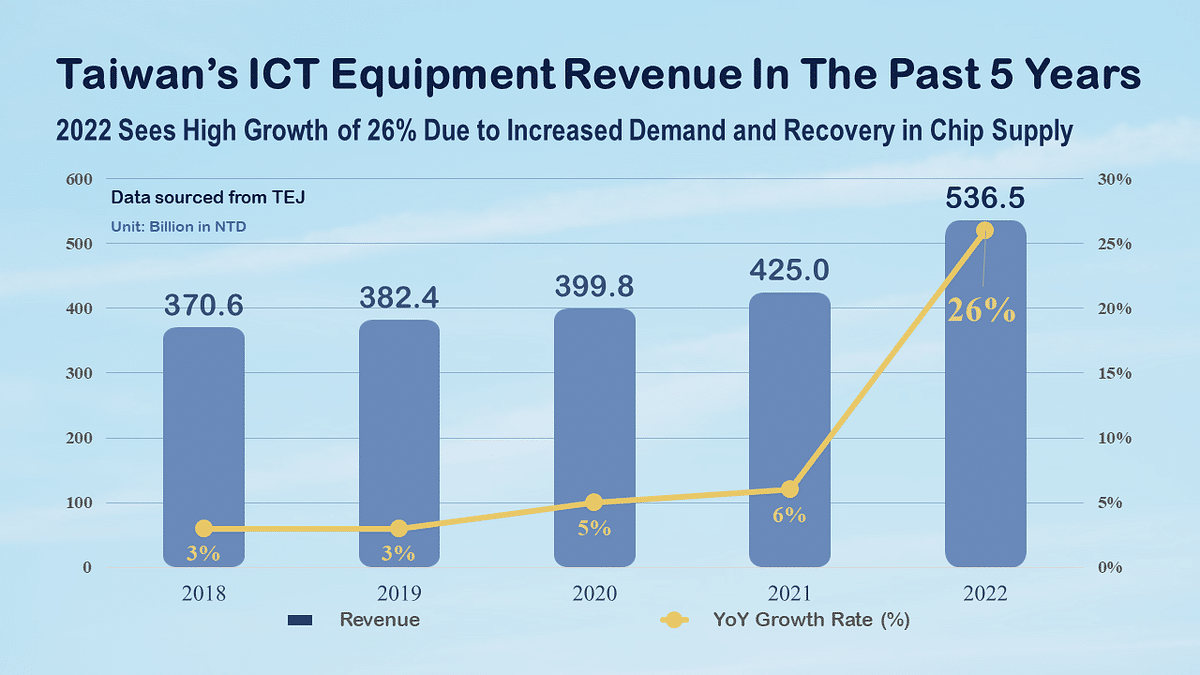 The US-China trade war in 2018 and 2019 led to a slight revenue growth trend for Taiwanese networking equipment manufacturers. In 2020 and 2021, the demand for networking products surged due to increased connectivity needs during the pandemic and growing broadband infrastructure requirements, resulting in 5% to 6% revenue growth. However, the chip shortage caused by the pandemic-driven demand for consumer electronics limited the fulfillment of networking product orders despite strong demand. By 2022, as consumer electronics demand declined, the chip shortage situation gradually improved, leading to a significant 26% revenue growth. Looking ahead, with long-term demand for broadband infrastructure and 5G equipment, Taiwanese networking equipment manufacturers are expected to maintain their growth trend in 2023.
Conclusion
In summary, the Taiwanese networking communications industry has witnessed significant revenue growth in 2022 due to increased production capacity, global demand for broadband infrastructure, continuous growth in 5G subscribers, and easing chip shortages. These four factors continue to drive the industry's growth, and it is expected that Taiwanese networking communications manufacturers will maintain a growth throughout the year 2023. As of March 2023, accumulated revenue for Taiwanese networking communications manufacturers reached NT$134.8 billion, representing a 17% growth compared to NT$115.5 billion in 2022.
Furthermore, the global networking communications equipment market is dominated by the top four network equipment brands — Huawei, Ericsson, Nokia, and ZTE. The networking communications equipment industry chain tends to be closed, where complete product sets, including software, hardware, and subsequent services, are sold together. However, with the adoption of OPEN RAN architecture, network operators are not restricted to a single equipment vendor. It is similar to building a customized computer at a mall, where one can select the CPU and GPU that are most suitable, without having to purchase the entire computer. However, it should be noted that the stability and performance of 5G OPEN RAN solutions are currently not on par with those offered by traditional network equipment giants.
It is important to continue tracking the trade war, related legislation, and the development of 5G OPEN RAN, as these factors will determine the future trends of Taiwan's networking communication industry!
---
Read More
About us
✉️ E-mail: tej@tej.com.tw
☎️ Phone: 02–87681088