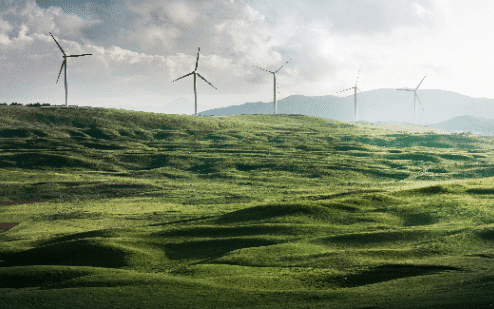 With the ESG trend, countries worldwide are setting carbon emission targets one after another, so the trend is to develop sustainable energy. Sustainable energy includes renewable energy, green energy, clean energy, etc. Renewable energy can be considered sustainable energy generated through renewable resources; green energy refers to the energy that provides maximum environmental benefits, and clean energy refers to power generation that cleans the air.
Taiwan is responding to the international goal of carbon reduction and developing renewable energy as one of the policy goals. In this article, TEJ will bring you to understand the definition of renewable energy, organize the critical developments in Taiwan's energy policy, the industry's current status, and understand which Taiwanese companies may benefit from the energy policy.
"RENEWABLE ENERGY"
The United Nations defines renewable energy as converting natural energy into energy that can be replenished at a rate higher than consumption. Renewable energy sources include solar energy, bioenergy or biomass energy, geothermal energy, ocean energy, wind energy, non-pumped-storage hydroelectricity, general waste, industrial waste, etc. In addition, most countries recognize small-scale pumped-storage hydroelectricity as a renewable energy source but exclude large-scale pumped-storage hydroelectricity.
On July 6, 2022, the European Union approved the inclusion of nuclear energy and gas as green energy sources in 2023, subject to strict conditions in the EU Taxonomy Regulation.For example, nuclear power plants must find final disposal facilities for nuclear waste by 2050, and emerging nuclear power plants must adopt new generation 3.5 atomic reactors. Based on these criteria, Taiwan's Lung Mun Nuclear Power Plant does not meet the green energy standard.
"Carbon Reduction Initiatives"
RE100 (100% renewable electricity)
RE100 is a global renewable energy initiative led by The Climate Group (TCG) and the Carbon Disclosure Project (CDP). The initiative is a joint effort to promote a friendly environment for the use of green electricity from the perspective of the demand side of the electricity market; participating companies must publicly commit to achieving a 100% green electricity use schedule between 2020 and 2050 and report their progress year by year.
The electricity used by participating companies in their global operations must come from renewable sources: bioenergy or biomass energy (including biogas), geothermal, solar, hydroelectric, and wind power, excluding nuclear and natural gas. The source of electricity can be purchased from the market or generated by the company itself; the former requires Renewable electricity certificates (RECs), while the latter requires that all renewable energy generated and consumed must meet reliable and transparent requirements and be certified by a third party.
Members can achieve their renewable energy goals by investing in renewable energy for their use, purchasing renewable energy certificates, and signing renewable energy power purchase agreements (PPA).
In addition, although the EU has approved the inclusion of nuclear power as a green energy source in 2023, the "RE100", which Apple, Google, TSMC, and other large companies have joined, still explicitly excludes nuclear power. Therefore, the controversy of whether nuclear energy is green energy is only related to the target percentage of renewable energy in Taiwan, and it does not conflict with the direction of improving renewable energy in Taiwan.
Net zero emissions by 2050
The Paris Agreement is committed to promoting carbon reduction policies, hoping to limit the global temperature increase to no more than 2°C, and proposes to limit it to 1.5°C. To achieve this goal, greenhouse gas emissions need to be reduced by 45% in 2030 (based on 2010) and to zero in 2050. Net-zero emissions mean reducing greenhouse gas emissions to near zero as much as possible, with the remaining greenhouse gas emissions being absorbed by the oceans, forests, etc.
"Current Status of Taiwan's Energy Industry"
In 2021, Taiwan will consume 283 billion kWh of electricity (yoy +4.3%) and generate 290.9 billion kWh of electricity (yoy +4%), of which more than 80% will come from fossil energy (coal 44.3%, gas 37.2%, fuel oil 1.8%), nuclear power 9.6%, and renewable energy 6%, as shown in Figure 1.
【Figure 1: Taiwan's power generation structure from 2012 to 2021】

According to the statistical database of the Bureau of Energy, Ministry of Economic Affairs (MOEA), power generators can be broadly classified into Taipower, private power plants (excluding Taipower), and self-generating equipment (self-generating equipment and "Feed-In Tariff, FIT" of bidding-type 3 renewable energy generation equipment). According to Figure 2, the primary source of renewable energy comes from self-powered generation equipment, and the source of pumped hydropower and nuclear power are all from Taipower; among the renewable energy, wind power should be given priority to private power plants.
【Figure 2: Taiwan's power generation industry structure in 2021 】
Source: Energy Statistics Database, Bureau of Energy, Ministry of Economic Affairs, compiled by TEJ
"Taiwan's energy policy planning direction: increase the proportion of renewable energy and improve the electricity storage and distribution system"
To mitigate the impact of greenhouse gas emissions on global climate, governments aim to achieve their greenhouse gas reduction targets through energy transformation. Taiwan proposed in 2016 to reach the GHG reduction milestone in 2025 (10% reduction compared to 2005) and non-nuclear home targets to promote energy transformation gradually. The Ministry of Economic Affairs (MOEA) released the "Sustainable Energy White Paper
" in November 2020 to refine the specific action plan for a complete energy transition by 2025.
In March 2022, the National Development Council officially announced "Taiwan's Pathway to Net-Zero Emissions in 2050", which revised the long-term national carbon reduction target to "Net-Zero Emissions in 2050". To achieve this goal, the Executive Yuan passed the draft of the "Greenhouse Gas Reduction and Management Act," with the name amended to "Climate Change Response Act," incorporating the long-term national reduction target into the law.
Taiwan 2050 Net-Zero Emission key strategy
Promote decentralized energy, energy storage, and Advanced Metering Infrastructure (AMI), and improve energy and power intensity.
Adjust the annual sales of new electric cars and electric scooters to 100% by 2040.
Develop carbon capture technology.
Prioritize the development of solar power, and wind power generation
"Policies drive demand for energy storage, solar, and offshore wind power into a period of rapid growth"
The intermittent nature of renewable energy generation will cause instability in the electrical grid, which requires energy storage systems to stabilize the voltage and frequency of electricity. Through the charging and discharging control of renewable energy combined with energy storage systems, excess electricity can be stored or output to be replenished, smoothing the output of renewable energy to achieve a stable energy supply.
To maintain the safety and reliability of the power supply, ensure the stability of the power system, maintain power quality and respond to occasional incidents, Taipower introduced the Day-ahead ancillary service market in 2021 to regulate daily power supply.
According to the plan of the Bureau of Energy of the Ministry of Economic Affairs, considering the mature technology and low cost of solar and wind power generation, the capacity of solar and wind power generation devices will grow rapidly until 2025, which will lead to the growth of related manufacturers' operation. It is worth mentioning that different wind power projects have different supply chain naturalization timelines and targets (e.g., underwater infrastructure manufacturing and onshore substations are required to be supplied by 100% domestic manufacturers). So even if the same wind farm is provided, the time to benefit from different projects may vary significantly.
【Figure 3: Taiwan Wind Power Related Manufacturers】
Source: Energy Statistics Database, Bureau of Energy, Ministry of Economic Affairs, compiled by TEJ
【Figure 4: Taiwan Solar Power Related Manufacturers】

Source: National Applied Research Laboratories, Ministry of Economic Affairs, compiled by TEJ
Conclusion
Ireland, an independent island with Taiwan, will generate 34.7% of its electricity from renewable sources in 2021 (42.1% in 2020) and aims to increase its share to 80% by 2030. However, the relatively high cost of renewable energy makes Ireland's electricity prices relatively high (Ireland's average price per kWh in 2021H2 is the fourth highest in the EU). Compared to Ireland, Taiwan has a smaller land area and higher population density. It is expected that Taiwan will face the same problems as Ireland in the future, and the issue of nuclear energy storage and disposal will come to the forefront again. However, according to EIA's estimation, the cost of nuclear power generation is lower than offshore wind power but much higher than onshore wind power, solar power, geothermal power, and hydropower.
Taiwan's energy transformation is imminent, coupled with the rising temperature and the successive decommissioning of nuclear power plants, all of which tighten the electricity supply. It will take 11-12 years to build a new nuclear power plant, so it will not be able to meet the urgent needs. It is expected that Taiwan's power-related investments will continue to increase.
Heavy electric power plant-related products such as transformers, switchboards, and gas-insulated switchgear (GIS) demand will increase with the priority of renewable energy demand, wind power generation components (such as uninterrupted power systems, fasteners, transformers, switchboards, etc.) related to Taiwan manufacturers can bring product quality and quantity improvement, land power transmission is a relatively mature development of Taiwan manufacturers. Onshore power transmission is a relatively mature part of Taiwan's development.
Silicon wafers in the solar energy sector constrain Taiwan's solar power plants. The cost of raw materials cannot compete with China's integrated industry, so they have been actively transforming. Downstream and solar power plants are relatively stable and are expected to benefit from the energy reform and end their long history of losses.