---
Preface
Chung Fu (1435.TW), founded by GuoZhang Huang in 1961, initially focused on textiles. In 1970, anticipating industrial changes, Huang expanded operations by acquiring 20,000+ square meters of land in Zhongli District, Taoyuan City. Over 60 years, this land became a highly valuable asset, potentially worth billions when sold. Consequently, the stock hit a 2022 Q1 peak of 70.8 yuan.
However, since Q2 2022, repeated financial report delays and an auditor's inability to opine on the 2022 annual report led to a trading suspension on April 10, 2023. Amidst this crisis and stagnant financials, over 20,000 small shareholders are anxious; and thus aroused their most-caring questions: Will management continue or have the company be delisted? This article explores Chung Fu's recent ownership events, delves into report delays, and underscores timely reporting and governance's importance.
What Happens If Financial Reports are Delayed?
Timely financial disclosure reflects a company's transparency and provides investors with vital information for informed decisions. The Financial Supervisory Commission (FSC) actively promotes transparency and timeliness in corporate financial reporting.
Per the Securities Exchange Act, Article 36, Section 1, companies issuing securities must, unless exempted by the competent authority due to exceptional circumstances:
Announce and report annual financial reports within three months of the fiscal year-end, including signatures or seals from the chairman, managers, and the chief accountant, auditor's certification, board approval, and supervisor acknowledgment.
Announce and report quarterly financial reports within forty-five days after the end of each fiscal quarter, including signatures or seals from the chairman, managers, and the chief accountant, auditor review, and board submission.
Monthly operational status reports must be announced by the 10th day of each month.
When companies can't meet reporting deadlines, they should request an extension from regulators. The TWSE may suspend trading while evaluating the situation. If a company's stock remains suspended and it fails to provide qualified financial reports within six months, it risks delisting.
In Chung Fu's case, it initially faced trading suspension in August 2022 for not reporting Q2 financials on time. Early this year, it encountered a second suspension for not delivering 'qualified' financial reports for 2022. What caused the delays, and what does 'qualified' reporting mean?
Key Events in Chung Fu's Financial Reporting Issues
According to information from TCRI Watchdog and the Public Information Observation Platform, the controversy surrounding Chung Fu's delayed financial reporting can be traced back to early 2022. TEJ has compiled information related to Chung Fu's failure to report its financials, including the delay dates, replacement of the auditing firm, and the date of stock trading suspension. The timeline and event details are illustrated in the following chart: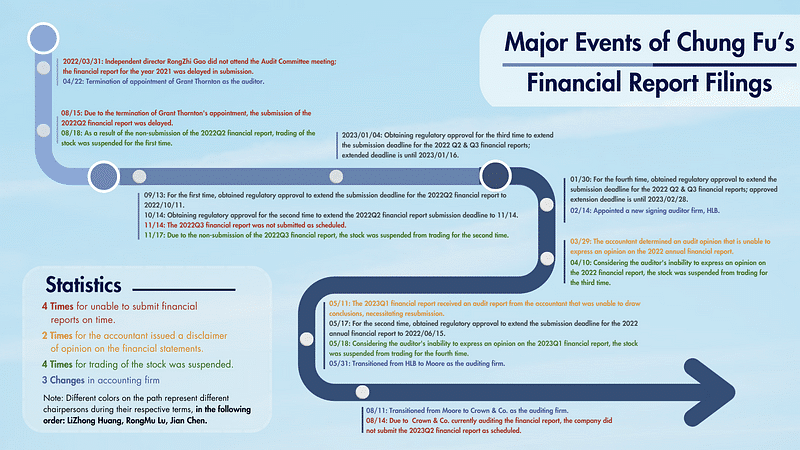 According to the chart, Chung Fu has repeatedly requested extensions for financial report deadlines and failed to submit reports three times since 2022. While initially granted extensions, the company ultimately couldn't meet the deadlines, with pending reports for 2022, Q1, and Q2 of 2023. These delays raise concerns about the company's financial transparency and reliability.
Notably, the company changed its auditing firm three times within two years, each time shortly before financial reporting deadlines. Such frequent changes can affect report consistency and suggest difficulties in cooperation between management and auditors.
Furthermore, on March 29, 2023, the company submitted its 2022 financial report on time, but the auditor issued an 'Unable to Express an Opinion' statement. This implies issues with the report, including unverified significant misstatements. In response, the company must still submit qualified financial reports within deadlines to avoid trading suspension.
The above situations highlights the need for caution among investors and regulatory bodies regarding the company's governance and financial reporting. The challenges in financial reporting and internal management could significantly impact the company's sustainability. It's crucial to remain vigilant. Persistent issues with financial reporting might indicate structural problems in internal processes and communication, making investment in such a company with unstable governance unadvisable.
In addition to the above, another noteworthy aspect is the management's statements. The delays in financial reporting raise concerns about management and corporate governance. Despite changes in leadership, issues with timely reporting have persisted. What specific governance problems exist at Chung Fu, and what have different factions said about recent events?
Management's Divergent Statements
Due to the extensive scope of this event, the failure to submit financial reports on time is just one of its outcomes. In addition, the event involves irregular transactions, past misconduct of the new management, and issues related to illegal land leasing, among others. The above content will be thoroughly analyzed and explained in the next article. In the following text, we will focus solely on the failure to report financial statements, listing statements and positions of the current management (Jian Chen), former chairman (Lizhong Huang), and even the Shareholder Self-Help Association, in chronological order.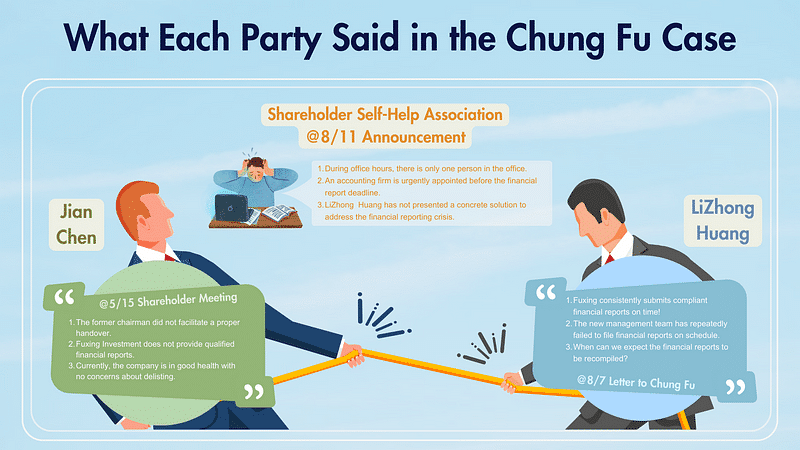 What Jian Chen said on May 5th Shareholder Meeting
Chairman Chen's key points regarding the delayed financial reporting and trading suspension include:
Inadequate Transition from Former Chairman Huang: Jian Chen highlights that the lack of a proper transition from former Chairman Lizhong Huang has been the biggest obstacle to the company's operations.
Non-compliant Financial Reports from Fu Hsing Investment: Jian Chen mentions that last year, Fu Hsing Investment refused to provide compliant financial reports, which led to the auditor's inability to express an opinion on the financial reports and subsequently caused the company to enter a trading suspension.
Strengthening Corporate Governance: Jian Chen emphasizes the commitment to enhance corporate governance, ensuring transparency in Chung Fu's financial and operational information for the scrutiny of all shareholders.
Healthy Financial Position: He points out that Chung Fu is currently debt-free, has cash on hand, and possesses substantial properties. The company's financial health provides no reason for delisting, and discussions with the auditors have been initiated to restore trading.
In addition, Jian Chen underscores the company's dedication to safeguarding shareholders' rights, taking legal actions against former Chairman Lizhong Huang for irregular transactions, which have entered judicial proceedings.
What LiZhong Huang said in the Letter to Chung Fu on August 7th
In an August 7th letter to Chairman Jian Chen and the Shareholder Self-Help Association, former Chairman LiZhong Huang addressed the financial reporting issue:
Compliant Financial Reports: Lizhong Huang stated that he provided compliant financial reports for subsidiary Fu Hsing before deadlines, aiding in their recompilation and submission. Delays occurred due to changes in auditing firms by the new management.
Auditing Firm Changes: Since the new management's takeover, the company changed auditing firms three times without prior notice, harming shareholders' interests.
New Auditing Firm Appointment: LiZhong Huang mentioned that the company announced its intention to appoint Crowe as the new auditor but had not issued a formal announcement. He and Woonkey auditing firm received no contact. (Note: On August 11th, the company announced Crown & Co. as the new auditor.)
What Shareholder Self-Help Association said on their Website
The Shareholder Self-Help Association, a third party deeply affected by the events, conducted inquiries with various parties, including former Chairman Lizhong Huang, the current management team, the former auditing firm, and the intended new auditing firm. Key findings include:
During office hours, key personnel were notably absent from the office.
Concerns arose as the intended new auditing firm, Crown & Co., had not received formal appointment, potentially delaying financial report submissions. (Note: The company later announced Crown & Co.'s appointment.)
Fu Hsing Investment Chairman LiZhong Huang primarily used legal terminology without proposing concrete solutions regarding the irregular transaction case.
In Summary, it's currently undecided whether Chung Fu will be delisted in October. However, it's evident that the issue of financial reporting delays is not a sudden problem but a result of long-term poor governance within the company. In the internal struggle between the old and new management, the ones most affected are still the innocent minority shareholders.
The Importance of Timely Financial Reporting in Corporate Governance
In summary, the trading suspension incident involving Chung Fu highlights the importance of timely financial reporting in corporate governance. 'Exposure to sunlight is the best way to prevent corruption,' and a robust information disclosure system is the cornerstone of a healthy securities market. Companies have an obligation to promptly, fairly, and fully disclose financial and business information, serving as the basis for decision-making by information consumers, such as investors and creditors.
For companies, timely financial reporting also contributes to building a positive corporate image, enhancing reputation among investors, partners, and regulatory bodies, thereby attracting more investments and promoting business growth.
More importantly, investors should not only focus on financial indicators but also understand the company's governance history, scrutinize past violations, and watch for any instances of concealment or delayed disclosure of information. Strong corporate governance holds far greater long-term value than short-term financial performance. On the path to sustainable business operation, corporate governance serves as a company's soul. Neglecting this factor, even with a financially healthy company, could unwittingly lead to the pitfalls of poor governance, as seen in the Chung Fu case, where even realizing the value of their stocks proved challenging!
延伸閱讀
Want to know more?
● TCRI Watchdog:Assist you in quickly understanding significant events and information regarding publicly listed companies. We further provide TEJ TCRI exclusive perspectives to facilitate credit risk management and decision-making, allowing you to stay informed firsthand about critical information.
● TESG Sustainability Solution:Coordinate ESG issues and dynamically track ESG events in publicly listed companies. We also use an Event Radar Score (ERS) to assess daily fluctuations in a company's score, serving as an indicator for your daily monitoring of corporate ESG performance!
If you have any questions about this article or want to obtain further access to the TEJ database, please feel free to leave a comment, call, or mail us.
About us
⭐️ TEJ Website
⭐️ LinkedIn
✉️ E-mail: tej@tej.com.tw
☎️ Phone: 02–87681088