---
Preface
In the business world, the battle for corporate control often becomes a fierce struggle, not only impacting the future of the companies but also deeply affecting market and investor confidence. In Taiwan, the fight for control particularly takes place within family businesses. Furthermore, this battle for control can also involve participants beyond the management level, which is the market parties. The market and company parties hold different managerial philosophies, engaging in intense competition for the decision-making power of the company. In this article, we will delve into two recent captivating cases of corporate control disputes, explaining their struggle for control and exploring the catalysts behind these battles!
What is the battle for control?
A business ownership dispute refers to a disagreement among shareholders or other stakeholders in a company regarding ownership or control rights. The dispute may arise due to various factors such as unclear equity distribution, poor corporate governance, or differences in decision-making.
Now, most shares of companies are no longer held by individuals or families but rather shared among multiple external shareholders. It is important to note that the shares owned by shareholders represent ownership of the company, not actual control. The actual operational control lies with the board of directors. The separation of ownership and management aims to establish a balance of power and responsibilities between internal and external stakeholders.
When shareholders perceive poor board performance or want to acquire operational control of the company, disputes over management rights may arise. Such disputes are no longer confined to internal family struggles but rather power games initiated by the "company party" and the "market party."
Company parties? Market parties?
In the context of ownership disputes, the term "company party" refers to individuals within the company who hold positions and own shares of the company. For example, if senior executives also hold shares of the company, they can be classified as part of the company party. On the other hand, the "market party" refers to individuals who hold shares of the company but are not internal members of the company. For instance, if we purchase shares of a company without participating in its business operations, we can be categorized as part of the market party.
According to the TESG Event Radar, there have been two ownership disputes this year, involving the companies TaiShan (1218.TW) and Shin Kong Financial Holding (2888.TW). Furthermore, we have compiled data from the TESG Event Radar to provide an overview of the background and details of these two ownership disputes.
The battle for control in TaiShan (1218.TW)
TaiShan had experienced numerous internal family disputes over business ownership. In addition, in 2018, the market party attempted to change the board of directors at TaiShan. In order to prevent the market party from taking control, TaiShan's company party sought external support from Long Bon. Subsequently, Long Bon officially acquired TaiShan, and the two parties reached a co-governance agreement in 2021. However, several years later, representatives of the market party led by Long Bon, including WeiLong Liu, TaiSheng Han, and GuoRong Zhu, compete for business ownership against representatives of the company party, including TaiShan's third generation, such as HaoJun Zhan and JingChao Zhan.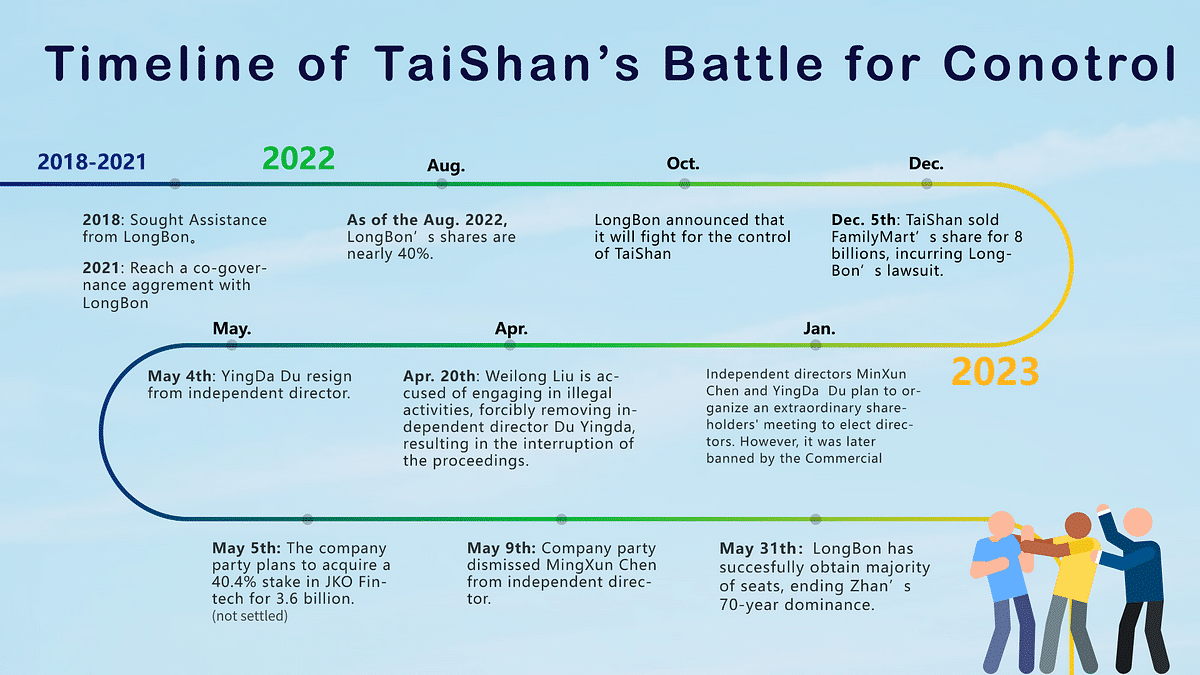 In 2022, the TaiShan business ownership dispute began to unfold. Long Bon, a major shareholder, significantly increased its stake in TaiShan, nearing 40% by August. Market rumors suggested that Guorong, Zhu of GuBo Group intended to conduct a board of directors' election, creating further attention. Subsequently, Long Bon and other major shareholders announced their plan to hold an extraordinary general meeting to compete for TaiShan's business ownership. In response, the company party, represented by HaoJun Zhan, sold their subsidiary, FamilyMart's, equity, which is the main source of profit of TaiShan. This triggered dissatisfaction from Long Bon, escalating the intensity of the ownership dispute.
Taishan sold its profitable investment, the Family Corporation (5903.TWO)!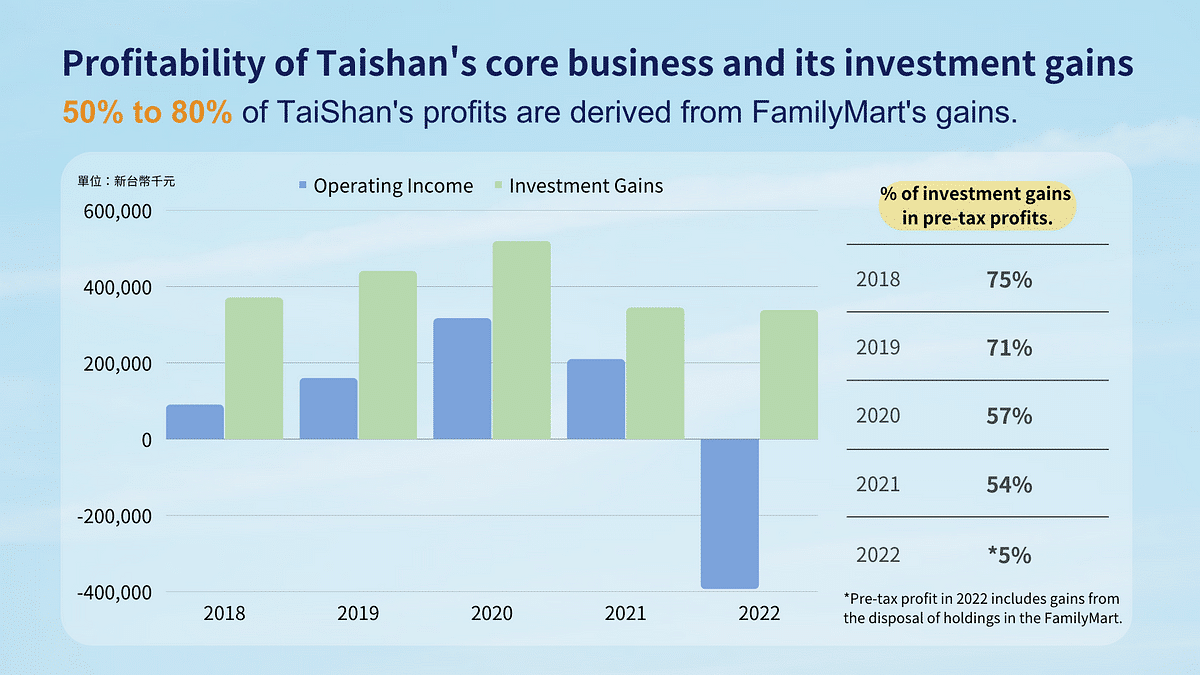 In 2023, the TaiShan business ownership dispute intensified as both sides engaged in media battles and more individuals became involved. On April 20, the company party accused Long Bon's market representatives of unlawfully entering the audit committee and took away independent director Yingda Du, interrupting the proceedings. Subsequently, Yingda Du resigned his job and withdrew from the conflict.
On May 5, the company party proceeded with the audit committee, held a board meeting, and planned to acquire a 40% stake in JKO Fintech, which was still facing losses, for 3.6 billion NTD. This move was criticized from many shareholders who disagreed with selling "FamilyMart". Meanwhile, the company party cited four reasons for dismissing another independent director MinXun Chen. Eventually, after the two independent directors withdrew, the TaiShan shareholders' meeting took place on May 31, and Long Bon successfully gained a majority, putting an end to the Zhan family's over 70-year control of the company's operations.
The battle for control in Shin Kong Financial Holding (2888.TW)
The recent battle for the ownership of Shin Kong Financial has garnered attention alongside the TaiShan dispute. To understand the context, we need to trace back to previous internal conflicts over ownership and the relationships among the three founding families.
The Shin Kong Group was established in 1945 by HuoShih Wu, WanChuan Hung, and DengShan Lin. With a wide range of businesses, the group is primarily managed by Wu's four sons and his nephew, TungHsing Wu, along with his three sons. More importantly, there are two financial holding companies: Shin Kong Financial, led by TungJin Wu, and Taishin Financial, led by TungLiang Wu. These two companies have different management philosophies and have been viewed as separate factions in the past. However, the struggle for control within the Shin Kong Group goes beyond family conflicts and instead involve the second generation of the Wu family, represented by TungJin Wu, and the third generation of the Hung family, represented by ShihQi Hung. Despite being descendants of the founders, they hold different management perspectives.
Founding family members in Shin Kong Financial Holding
In July 2019, Shin Kong Mitsukoshi witnessed its first struggle for management control, primarily within the Wu family. The eldest son, TungJin Wu, nominated his younger brother, TungSheng Wu, to challenge their cousin, TungHsing Wu, who held the position of chairman at Shin Kong Mitsukoshi. However, this attempt ultimately failed. TungJin Wu's motivation for taking such action was to gain an advantage in the upcoming board of directors' election for Shin Kong Financial. Furthermore, he also felt threatened by the alliance between his cousin TungHsing Wu and his brother TungLiang Wu, which posed a significant risk to his position within Shin Kong Financial.
In March 2023, the battle of the management control struggle commenced. Shin Kong Mitsukoshi, the second-largest shareholder of Shin Kong Financial, faced another board of directors' election. The eldest brother, TungJin Wu, formed an alliance with his younger brother, TungSheng Wu, and successfully persuaded the Japanese shareholders to seize the position of chairman at Shin Kong Mitsukoshi. However, in May 2023, due to dissatisfaction with Wu TungJin's past performance and Shin Kong Financial's history of indecisiveness and lack of action, ShihQi Hung announced the solicitation of shareholder proxies to compete for board seats against the Wu faction led by TungJin Wu.
The reformist camp led by Hung received significant support from many shareholders, obtaining a large number of proxies at low prices. In response, Wu sought for TungLiang Wu's help and sent a letter titled "I don't want us to become family sinners," hoping to unite the company parties and counterbalance the reformists.
Finally, in the board of directors' election held on June 9th, the reformist camp still secured a two-thirds majority. TungJin Wu referred to this as a war of shareholder proxies to exert control over the company's shares, indicating that a co-governance situation would continue in the future.
Conclusion
In conclusion, corporate governance plays a crucial role in today's business and is vital for the sustainable development of companies. The battle for corporate control has become part of market scrutiny over a company's ESG practices. A healthy battle for control is seen as an important external monitoring mechanism. However, in the cases of TaiShan and Shin Kong Financial, we witnessed different parties employing various strategies before or during shareholder meetings, such as consolidating share ownership, utilizing media announcements, and soliciting proxies. The above turned out to be behaviors that harmed their sustainable development. In these wars, there were no real winners.
Last but not least, the "utmost responsibility of the board of directors is to pursue the best interests of the company." Both the company and market parties must strive towards this goal. In terms of sustainability, the implementation of corporate governance aims to achieve the long-term sustainability of the company rather than the perpetuation of family or personal interests. As shareholders, when observing battles for corporate control, it is essential to discern whether the struggle is a necessary path for the company's sustainability or simply an arena for family or personal interests.
---
Want to know more?
TEJ TAIWAN DB → TESG Sustainability Solution→ TESG Sustainable Dataset
Accessing TESG Sustainable Dataset, you can obtain information on companies' ESG practices!
If you have any questions about this article or want to obtain further access to the TEJ database, please feel free to leave a comment, call, or mail us.
About us
⭐️ TEJ Website
⭐️ LinkedIn
✉️ E-mail: tej@tej.com.tw
☎️ Phone: 02–87681088