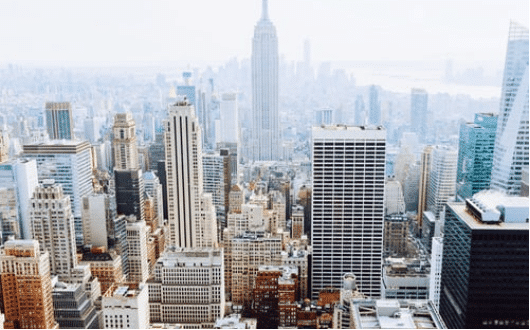 Preface
At the end of 2021Q3, Evergrande Group (3333.HK), the real estate leader in China and other companies defaulted on debt: Sinic Holdings Company (2103.HK), Fantasia Holdings Group (1777.HK), and Sunac China Holdings Limited (1918.HK) were also named by the media as the next company that may face a crisis.
This wave of crisis events in China's real estate industry can be discussed from the Chinese government's request for real estate companies to control the scale of debt in August 2020. Real estate companies must fully complete the adjustment of the "Three red lines" within three years. The so-called "three red lines" include:
The debt asset ratio after excluding advance receipts shall not be greater than 70%
The net debt ratio shall not be greater than 100%
Short-term debt ratio of cash is less than 1
If the real estate company violates one of the rules, the annual debt growth rate shall not exceed 10%. If they violate two rules, the annual debt growth rate shall not exceed 5%. If all three rules are violated, they shall not add interest-bearing debts. According to media statistics, there are 8 Chinese real estate companies including Evergrande Group that have violated all three red lines.
The crisis of China's real estate companies started by the Evergrande Group can be predicted through TEJ's China Corporate Credit Quantitative Model (CCRQM). Since 2016, Evergrande Group has been rated as the 7th high-risk level for four consecutive years, and the overall comprehensive score has been declining year by year. By 2020, due to the decline in profits, the CCRQM rating is downgraded to the 8th level. By October 13th, after Evergrande, Beijing Modern Land (1107.HK), the top 100 real estate companies is also struggling to pay the debt. All signs mean debt defaults loom over real estate companies.
The CCRQM ratings of aforementioned companies fell into the high-risk range in 2016. However, China domestic rating agencies still gave these companies a "stable" rating before the incident was exposed. To evaluate the risks of Chinese companies as earIy as possible, investors or creditors can use the CCRQM ratings developed by TEJ.

CCRQM grand distribution of chinese real estate companies
TEJ reviewed about 150 Chinese listed real estate companies (about 35 companies are listed in Hong Kong). Nearly 70% of these companies' CCRQM ratings fall into the high-risk 7-9 level and default level D. In the list of about 101 companies, 34 companies of them seem to have insufficient cash to cover short-term borrowings in a year. (Please see the table at the end of the article)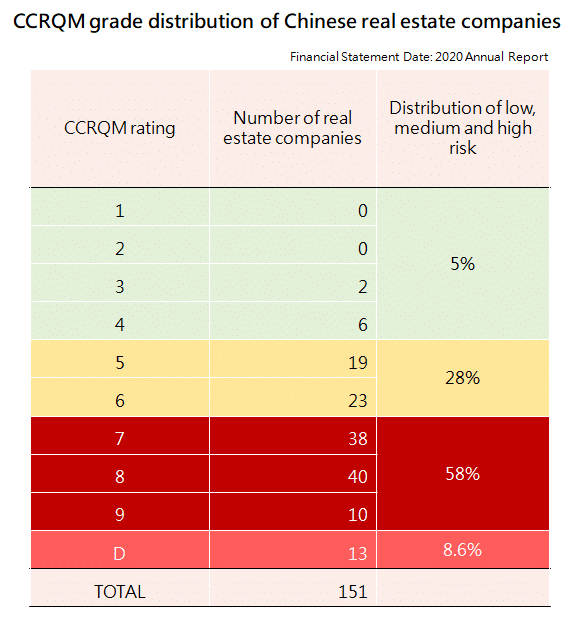 The overall market continues to care about whether this event will become the Chinese version of Lehman Brothers. At the same time, through the daily update warnings of TEJ CCRQM and China Enterprise News, risk policies can be assessed early, and daily announcement warnings can be known immediately. Users can be more confident to stay vigilant before a crisis occurs and prevent it in advance.
If you want to have a deeper understanding of CCRQM, which has an accuracy rate of 91.8% for default risk, and a more complete credit risk solution for Chinese enterprises, please refer to the TEJ CCRQM .
Short-term cash gap and CCRQM rating of listed real estate companies in China: