Taiwanese Companies Proactively Address Climate Change: 94 Companies Join SBTi, thus TESG Ratings Elevated
Taiwan Economic Journal (TEJ) has announced the latest ratings for the TESG Rating, independently developed by TEJ, on November 1, 2023. The evaluation included a total of 2,402 companies, with 91 companies experiencing a rating change of more than 2 levels compared to the previous assessment, constituting 4% of all evaluated samples. The TESG Rating is based on 16 issues under the three pillars of ESG, utilizing over 60 variables to establish a quantitative evaluation model. It provides an assessment of the ESG performance for all publicly listed and publicly issued companies in Taiwan. TEJ is committed to delivering the latest ESG information to assist financial institutions, investors, and businesses in conducting more accurate sustainability assessments.
The TESG ratings range from A+ to C-, categorized into seven levels and three groups: Leading, Average and Lagging, respectively.
The distribution of the indicators in this assessment is illustrated in the chart below (Figure 1) :
Information Disclosure Crucial for ESG Ratings
The latest rating update is based on the collection of sustainability reports for the fiscal year 2022, encompassing 897 companies, with 205 companies disclosing their reports for the first time. Within one month after the announcement deadline for the sustainability reports on September 30, TEJ leveraged its data organization techniques and the ability to assess data quality to update all ESG information from the reports and other sources. This facilitated assigning appropriate ESG ratings to companies, aiding financial institutions in evaluating their own ESG performance or that of potential investment and financing partners.
The extent of information disclosure significantly influences ESG scores. Among the 205 companies disclosing their reports for the first time, 65% experienced an upgrade due to the improved disclosure. Taking Johnson Health Tech (1736.TW) as an example, this year, the level was upgraded from B to A+ due to increased information disclosure and obtaining quality assurance certification. Enhancements in the S and G aspects also contributed to substantial rating improvements for companies such as LDC Hotel (2748.TW), Dyaco (1598), BenQ Medical (4116.TW), where TESG Ratings were upgraded by more than 2 levels. The reasons include obtaining ISO certification, board attendance rates, and the establishment of a chief information security officer (CISO), leading to increased transparency and positive developments.
Adoption of GRI Guidelines: Transition to the 2021 Edition, with 20% of Companies Identified for Enhancement
The "GRI Guidelines," introduced by the Global Reporting Initiative in 2016, provide a framework and process for companies and organizations to compile sustainability reports. It has become the most widely used set of guidelines for this purpose. The GRI Guidelines have recently been updated to the 2021 version, which is also the current framework mandated by the Financial Supervisory Commission (FSC) in Taiwan for companies preparing sustainability reports.
Analysis of this year's sustainability reports reveals that 85% of companies have adopted the 2021 version of the GRI Guidelines as required. However, 6% of companies did not disclose the guidelines they adopted, and an additional 9% of companies continue to use the 2018 version of the GRI Guidelines. It is recommended that companies promptly align with the latest guideline specifications to ensure compliance and robust sustainability reporting practices.
Companies Actively Join the Science Based Target Initiative (SBTi)
The Science Based Target initiative (SBTi) advocates for "science-based net-zero emission actions" to assist companies and organizations in setting short-term and long-term carbon reduction goals. It provides a clear path for companies and organizations to establish emission reduction targets, guidelines, standards, and carbon reduction recommendations in line with the goals of the Paris Agreement. As of September 2023, a total of 94 publicly listed companies in Taiwan have joined the initiative, with 31 companies responding in the first three quarters of 2023. Companies such as HiWin, Global Unichip, WNC, Mega Financial Holding, SZS, Catcher, and IBF Financial Holdings have actively pledged to reduce carbon emissions and have consequently seen an elevation in their TESG ratings due to their commitment to SBTi.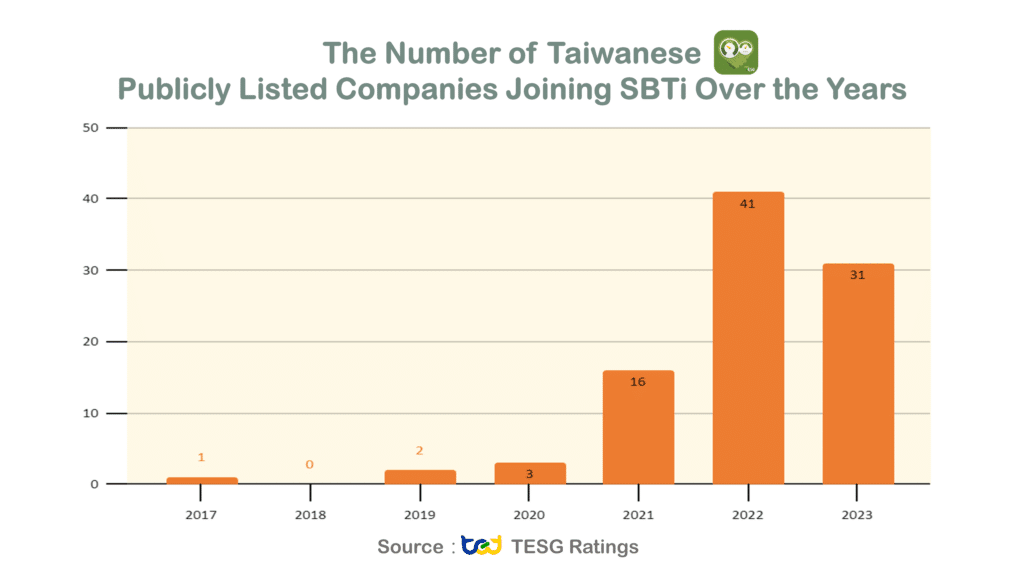 TESG Ratings and Data Gap Periods: Utilizing Event Radar Score (ERS) as a Threshold to Reflect Significant ESG Events
TESG currently undergoes semi-annual assessments in May and November, while sustainability reports are disclosed annually. To address data gaps during these periods, daily Event Radar Scores (ERS) are utilized as a conversion metric, reflecting on TESG Ratings. This ensures that TESG Ratings accurately reflect major ESG events.
In the latest rating announcement, based on the 2022 sustainability report data, TEJ encountered significant ESG events during the rating and data gap period. The Event Radar Score (ERS) was used for scoring and reflected in TESG ratings. For instance, a sports equipment company in the consumer goods industry experienced a major fire resulting in severe casualties, leading to a downgrade of 2 levels in the TESG Rating. Similarly, a beverage company in the food industry faced a mandatory shutdown by government authorities due to food safety issues, resulting in a 2-level downgrade in its TESG rating.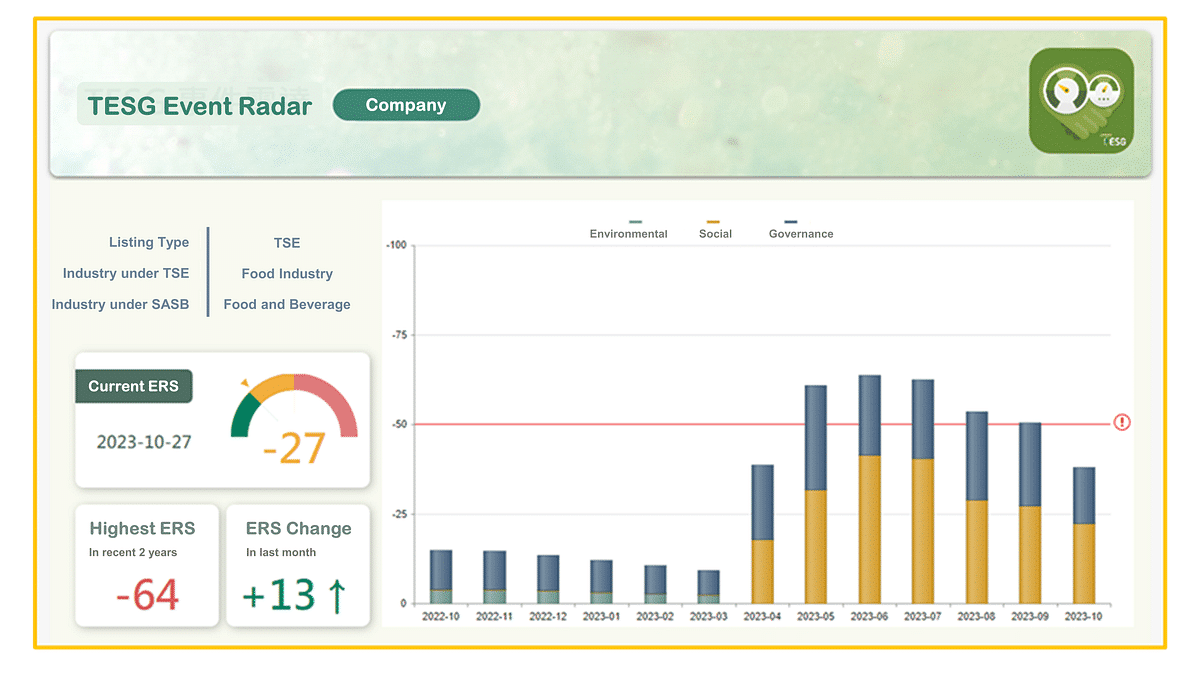 ---
TESG Sustainable Solution: A One-Stop Solution for Sustainable Financial Goals
Sustainable development has become an imperative focus for global businesses, with the financial industry adhering to responsible investment and responsible lending. While formulating internal policies, financial institutions rely on comprehensive ESG information to understand the ESG development status of companies.
Taiwan Economic Journal (TEJ), drawing on over 20 years of research and expertise in corporate social responsibility and ESG issues, has developed the TESG Rating using quantitative analysis techniques. This addresses the challenges faced by financial institutions in promoting responsible investment and credit. With a wealth of data sets and solutions for sustainable finance and green financing, TEJ's solution streamlines the process, allowing for efficient and precise evaluation of companies in the realm of green finance.
TEJ's ESG Sustainable Development Solution serves as a one-stop platform to meet the assessment and information needs for green finance goals. For more information, please feel free to contact us!
For a more comprehensive information of the TESG Sustainability Solution, please refer to the TESG website!